Following weeks of heavy monsoon rains, Pakistan's largest freshwater lake began to overflow in early September, threatening the houses of tens of thousands of people, according to new satellite pictures. The photos, taken by NASA's Landsat 8 and Landsat 9 satellites, reveal breaches in the banks of Lake Manchar, some of which were purposefully constructed by local officials to prevent the overflowing lake from spilling onto highly inhabited sections of the Indus River Valley.
The photographs depict the pre-flood scenario on July 25, followed by the expanding magnitude of the floods on August 28 and September 5. According to NASA officials, 100,000 people living in several hundred towns dispersed across the valley are at risk of flooding as a result of the breaches. The floods, rated as the worst in at least a decade in Pakistan, have killed over 1,300 people and wounded thousands more. Over a million homes have been damaged, and hundreds of thousands of people have been forced to flee their homes.
The deluge has wreaked havoc on Pakistan's Sindh province, which includes Lake Manchar. According to NASA, the area has already received five times its typical annual rainfall this year. More rain is expected in the following days, according to the Met Office in the United Kingdom.
On August 30, the government of Pakistan declared a national emergency, requesting foreign aid to send food, drinking water, and health supplies to impacted populations.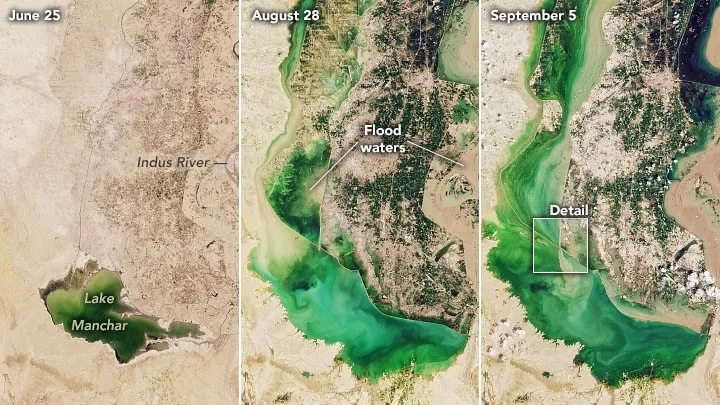 The area around Lake Manchar on July 25, Aug. 28 and Sept. 5, 2022, captured by NASA Landsat 8 and 9 satellites. (Image credit: NASA)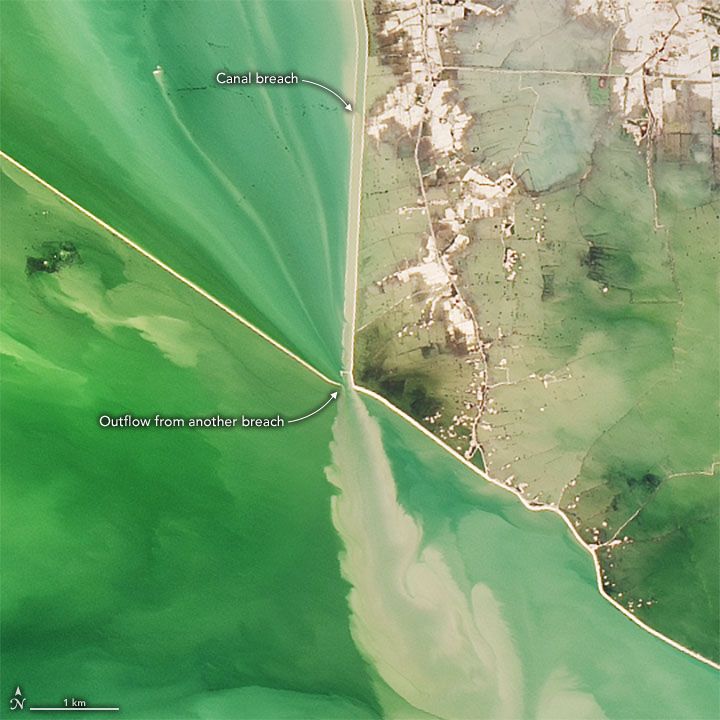 A zoomed-in satellite image captured Sept. 5, 2022, shows Lake Manchar water flowing out from breaches. (Image credit: NASA)