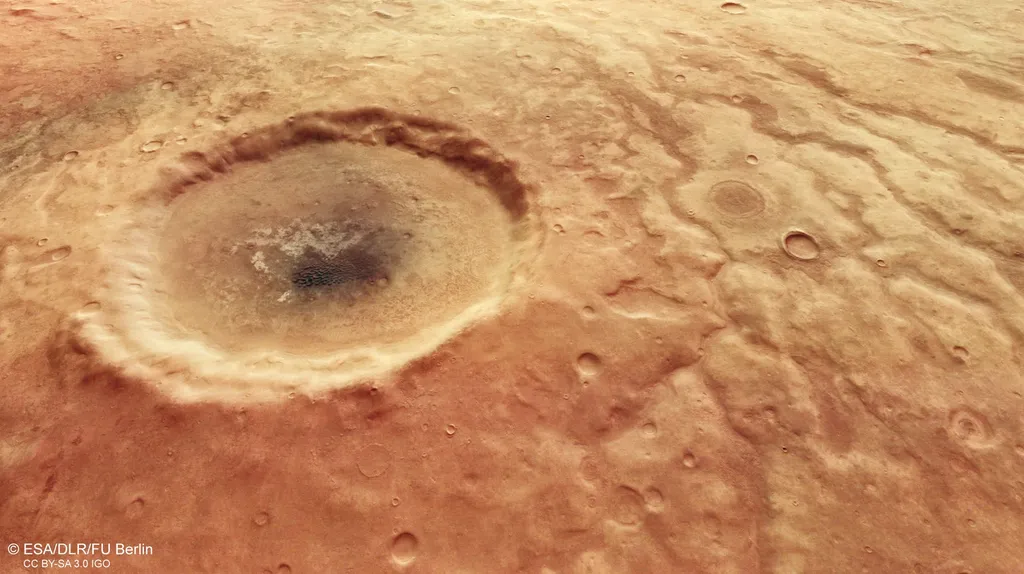 This eye-shaped crater in the Aonia Terra upland area in the southern highlands of Mars was captured by Europe's Mars Express mission. (Image credit: ESA/DLR/FU Berlin, CC BY-SA 3.0 IGO)
This recently revealed image nearly gives the impression that a Mars impact crater is peering back up at the European Mars Express mission. On April 25, the unnamed crater on Mars with a width of 18.6 miles (30 kilometers) was photographed by a European Space Agency (ESA) mission. On June 8, the ESA published the picture in a blog entry.
A black dune field may be seen inside the crater, enclosed by a lighter surface. The Mars Express High-Resolution Stereo Camera (HRSCimages ) of the crater's interior indicates a variety of materials and a textured past.
The report added that the canals, which "evoke pictures of veins flowing through a human eyeball," "are thought to have moved liquid water over the surface of Mars roughly 3.5-4 billion years ago." The crater is situated in the upland area of Aonia Terra in Mars' southern highlands. With a ground resolution of around 46 feet (14 meters) per pixel, the image itself is a "true color" image, mirroring what the human eye would perceive if gazing at this part of Mars.
The ESA blog post also includes a color-coded topographic picture, with higher altitude sections appearing in white and red and lower-lying portions of the surface being depicted in blues and purples. Cone-shaped hills and other irregularities on the inner crater's surface are indications that a variety of materials had previously been used to fill the area there.
Since December 2003, Mars Express has been in orbit around the Red Planet, photographing and mapping the planet's surface and exploring its flimsy atmosphere. During its science missions, the spacecraft has also found indications of water.